L&DI Blog & News
Learning & Development Institute, founded in 1969, is the professional body representing members concerned with Learning and Talent Development in Ireland.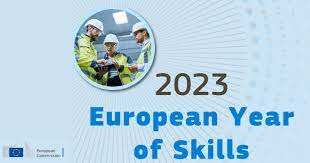 Towards 2023 - European Year of Skills
By Gerard Walker, Future Jobs-Skills-Work Insights
In an attempt to boost investment in training and upskilling opportunities for workers seeking to acquire in-demand skills, the European Commission has made 2023 the European Year of Skills.
Having the right skills empowers people to successfully adapt to labour market changes and to fully engage in society and democracy.
Enhanced workforce skills also result in more innovation and improved companies' competitiveness. This is against the background that only 37% of European adults engage in training regularly and many lack digital skills. Currently more than three-quarters of companies in the EU are reporting difficulties finding workers with the necessary skills.
In support of the European Year of Skills 2023, there will be EU funding support for effective and inclusive investment in relevant training and upskilling to optimise workforce capability and to support people in changing between jobs. Also, for matching people'sfalse
Other topics to explore